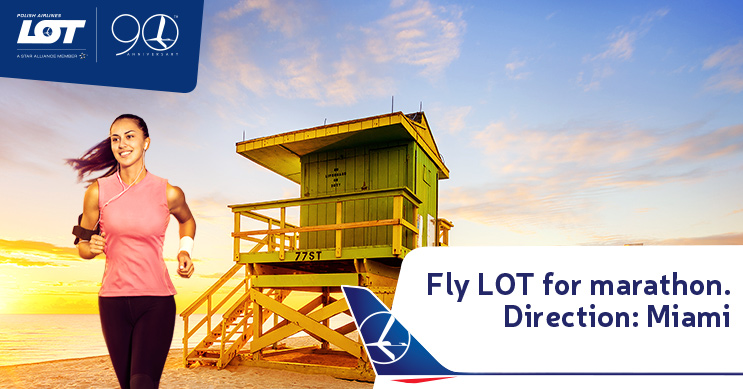 New York, Chicago, Tokyo, Toronto, or maybe London, Berlin or Milan?
It is best to fly with LOT for the most interesting running events organized in the most beautiful corners of the world. The participants of the two previous editions of our out-of-this-world competition – in 2017 and 2018 – have already found that out. Two years ago the contest was for flight tickets to Los Angeles and race kits for the marathon in the City of Angels. In 2018, the prize was a flight to Singapore and entry to the marathon in the Lion City. What we have for you in 2019 is a real hit! LOT Polish Airlines is opening a new Warsaw-MIAMI route and it will be there that the winner will be able to enter the marathon!
The first passengers will enjoy the direct connection WARSAW-MIAMI launched by LOT – the official partner of the 14th PZU Warsaw Half Marathon and the 41st Warsaw Marathon – in June. It will be the 14th long-haul route on which LOT's Dreamliner will fly. The winner of our competition will have the opportunity to personally check the most convenient direct flight from Warsaw, as well as to experience the emotions, views and energy connected with running a marathon in the heart of the Sunshine State – Florida.
Everyone who has decided to take part in the 14th PZU Warsaw Half Marathon has a chance to become the owner of a voucher for a double flight return ticket on the Warsaw-MIAMI-Warsaw route and two race entries for the MIAMI MARATHON on February 9th, 2020.
Sounds inviting? All you need to do is:
1.  Finish the 14th PZU Warsaw Half Marathon.
2. Enter the competition, make a 30-second video and convince us that you should win the prize
3. Finish the 41st Warsaw Marathon then wait for a message from us.